The mention of a visit to North Korea always elicits surprise and curiosity. I had the opportunity to make a 10-day visit recently and will offer some observations. Dick Simon of the USA led the group and wrote an excellent summary – more immediate and more emotional – which I will share. I will start with a few personal and geopolitical comments of my own.
Comments written by Art DeFehr
The homogeneity of the population is one of the first impressions when arriving in North Korea. Even the haircuts seem to be universally identical. When the West encounters uniformity we conclude this is a product of sterile Communism or totalitarian Government. That probably plays a role but the history of Korea is notably different from most nations in Europe or Asia. The reality of geography has placed Korea not only at the extreme eastern edge of the great Eurasian landmass but on a peninsula. There has been no mixing of populations or cultures and this has resulted in a genetically homogenous people similar to Japan. My theory is that this has permitted the development of "groupthink" in a manner we can hardly imagine in our European context. That is a good starting point to understand North Korea.
A senior official offered his view of North Korea and the world. He pointed to a map and then to China which was the prime neighbor for most of Korean existence and has dominated for millennia. In 1905 Japan invaded and acted as brutal colonizer until the end of WWII. Russia has always threatened from the North and they now describe South Korea as a US military colony. He stated that the current nation of North Korea represented the first time in history where at least a portion of Korea was genuinely independent. The implication was that nuclear capability is the only way to keep any or all of these challengers at bay. We may or may not agree but that is a reasonably coherent view of their reality. When I was in Iran they took a map and made exactly the same point about their neighborhood! We should note the US anxiety about Cuba 50 years ago and the current Russian concern about NATO in the Ukraine.
We in the West lament the lack of personal freedom and expression in North Korea but should step back and take a longer view. East Asian societies were all unified, stratified and structured societies and cultures that had precious little space for the individual. Japan began to open after the black ships and then the big shift after the shock of losing WWII. China has only begun to create more individual space since the death of Mao Tse Tung. During the period to 1950 all of Korea was colonized and dominated. After the shock of the devastating war South Korea became part of the Western World and North Korea retreated into its shell – but arguably also into its culture and history. Given time and opportunity I am certain the North Korean population would become successfully modern – but they are playing with a historic deck of cards.
North Korea deserves most of the images and caricatures we hold in the West but it also offers many surprises. As already mentioned there is an apparent coherence in terms of the perspectives of the population that is strange to Western sensibilities. Within this rigid structure there are surprises. One was the private University in Pyongyang operated by Evangelical Christians from the West. It teaches in English, has excellent Internet access and the curriculum in areas like business is identical to what is taught in our Universities. One day we had dinner in a private "brew restaurant" that produced its own beer. Consider a Kempinski Hotel near the top of a 102 story building shaped like a pyramid. Simon comments on some of the restrictions on photography but note a couple of the pictures I have attached. We attended several special schools where students are taught in a foreign language and had the opportunity to engage privately with the students. Note the photo of a sewing factory. Western countries have all placed sanctions on North Korea in terms of sourcing product – these clothes were fully produced in North Korea but the labels read "Made in China".
The experience at the Pammunjom border was more than interesting.  While visitors to the south side (South Korea) are highly regimented in terms of dress and behavior, the North Koreans encouraged us to go anywhere and photograph anything – please just do not step across the border! My American colleagues enjoyed standing near the border, waving and calling to the American tourists standing in rigid unsmiling rows and dressed in blazers on the other side.  "Hi, my name is Joe – I come from Oregon!" No response and the North guards were immensely amused. We had arranged to be the first bus at the border and as we left there were 19 buses full of Asian or Western tourists waiting to repeat our experience. A youthful group from Eastern Germany stated they came to experience the life that had been lived by their parents.
The North Koreans took us to another part of the border where we could observe the concrete wall built by the Americans/South Koreans right across the peninsula except for Pammunjom.  Dick Simon points out the limitations on photographing the military – but look at the photo of myself with a smiling senior military official.
We had a terrific group of fellow travelers.  Whatever the limitation everyone was determined not to be the first to mention the problem. We found the experience energizing but extremely sobering. The country and population of North Korea lives in a time warp that is painful to watch and we could only wish them a different outcome.  Our feeling was that the regime may have the ability to stay in power quite a while longer.  Starving people do not start revolutions.
Continue to read the report by Dick Simon which covers more of the colorful details of the travel and our collective emotions.
Following Report written by Dick Simon of Peace Action Network – part of YPO/WPO
NORTH KOREA VISIT REPORT
I just returned from an incredible trip to North Korea leading a 12-day Peace Action Network (PAN) Experience with 16 YPO/WPOers from India, Pakistan, Albania, Poland, France, UK, Brazil, Canada and the US.  The trip shattered preconceived notions and 'truths', and provided opportunities for deep personal growth.  I am writing to share my raw impressions and experiences, and hope you enjoy, possibly see new perspectives, and maybe even become inspired to visit North Korea for the experience of a lifetime.
Before going I "knew" travel to North Korea was impossible for Americans, until I saw a photo of a friend taken in Pyongyang.   I called to find out how she made this happen, immediately decided that I wanted to go and created a PAN Experience to share this unique opportunity with other business leaders interested in making a difference. The real "truth" is that is very easy for Americans, or citizens of any country other than South Korea, to visit North Korea – you just make arrangements with a tour operator, get  a visa and go.
I also "knew" North Korea was a dangerous place to visit.  I got wary looks and nervous advice from family and friends about how brave or foolish I must be to travel there.  My kids "joked" that they should be making holiday plans without me as it might take years for me to "get out".   I came biased and paranoid, fueled by anti-North Korea books and documentaries.  The real "truth" is that there has never been an incident in which a western tourist was imprisoned or worse.
You go in and out of North Korea through China.  We had received special permission to exit by train, normally forbidden for Americans, which was revoked a few days before the trip in response to heightened tensions over US-South Korean war games, officially called "Ulchi Freedom Guardian" exercises.  They had no sense of humor about thousands of US and South Korean soldiers practicing invasion and using the North Korean flag for target practice.
Our experiences reaffirmed my belief in the value of being on the ground eyeball-to-eyeball in order to begin to understand.  Even in the context of minders, restrictions, no pictures, etc., I experienced and learned from the human connection moments:  when our guides very privately shared their secret dreams to create a business and better lives for their children, participating in mass dancing with thousands of North Koreans in Kim II Sung Square during National Day celebrations, purchasing and wearing military hats which brought the thousands of vendors in Rajin Central Market, the largest free market in the country, to a standstill as everyone stared and giggled, and our last night visiting Rungya Amusement Park which gave us the opportunity to share the excitement of work units travelling from the countryside into the big city, and trying out the roller coaster – definitely self-inflicted torture. 
We realized that everything can be seen from multiple nuanced perspectives, and words are very powerful whether they be American Imperialist and South Korean Puppet, or Axis of Evil, rogue nation and Hermit Kingdom.  When we visited the demilitarized zone (DMZ) between North and South Korea, we heard about two small villages still inhabited in that no-man's-land.  In the South they call the North Korean "Propaganda Village" and South Korean "Freedom Village".  Undoubtedly the North would have opposite names.  The term "defectors" is used for those who leave North Korea, although they primarily leave for economic, not political reasons.  We don't use the term "defector" for Mexican laborers illegally entering the US to earn money for themselves and to send home to their families, which is much the same activity and motivation of most North Koreans leaving their country.
The ominous feeling of being constantly monitored was ever present and we learned a lot despite rules and controls we were subjected to.  We were not permitted to go outside our hotels or walk anywhere without a guide/minder, were closely watched, and probably bugged much of the time.  One evening four of us were walking on an outdoor path, presumably alone, to the hotel's dining hall, when a voice from the woods behind us said "wrong way, turn left".  On another occasion, our guide/minder was woken up in the middle of the night by a security guard to investigate a guest who was seen outside his room, but still inside the locked, gated compound.
There are strict rules around photography.  No photos are allowed from buses or of anyone in uniform (of which there are a million out of 24 million population).  I decided that the North Korean translation for "hello" was "no-photos" as we were so frequently greeted with that admonition.  When we visited the DMZ I realized how inconsistent the North Korean rules were.  The most sensitive part of the country was the only place we were allowed to take photos of soldiers.
There are rules to ensure a sacred respect for the Leaders, including never taking pictures of only part of a statue.  On arrival in Pyongyang we made the obligatory visit to place flowers at Mansudae Grand Monument – 20-meter high statues of the Great and Dear Leaders.  The guides/minders were vigilant about our camera angles to ensure no one took a picture of the bowing crowd at the base of the monument without including the entire statue in the frame!  At the border some of the cameras were checked and "offending" pictures deleted.
You are not allowed to deface or discard any image of the Leaders.  As North Korean newspapers run their image on the front page almost daily, these papers are neatly folded and saved after they are read.  We heard of a tourist forced to write an apology letter when a crumpled newspaper was found in his hotel room trashcan by a vigilant maid who reported it. 
Cell phone, iPads and any devices that contained GPS or cellular communication capabilities could not enter the country and had to be left in a sealed container at customs to be returned when we left.
The best way for me to understand North Korea is as a theocracy with a state religion, rigid acceptance of dogma, deification of Leaders and proliferation of rules to live by.  The dogma is Juche, the philosophy first promulgated by Kim II Sung, the Great Leader and Eternal President. This is a complex cultural/political notion of self-reliance.  It is constantly preached by the Government and media and followed like a bible by the masses.  All acts and teachings from the Leaders are treated as divine and they travel throughout the country "giving guidance" to share their wisdom on all matters, from education to writing to manufacturing and agriculture.  We witnessed revered photos of their visits everywhere.  At a cooperative farm we saw a large museum (aka shrine) dedicated to the three leaders' visits with objects they touched and chairs they sat in enshrined in glass cases set on pedestals.
The most surrealistic experience was pushing a North Korean truck (accidentally!) into a ditch and then being told to flee.  (We felt terrible, but followed instructions!)   In the dark on a remote country road a broken down truck blocked the middle of the road so that our bus couldn't pass.  We got out and asked the driver to let us move the truck to the side of the road.  As we pushed and speed built up, the "driver" who turned out to be a watchman who didn't know how to drive or use the brakes, accidentally steered the fully loaded coal truck into a deep ditch.  After making sure he wasn't hurt we were instructed by our guides, the police (who mysteriously instantly appeared), the assembled onlookers and the driver to leave as the presence of foreigners would dramatically escalate the situation from a minor accident to an incident which would require full investigation by state security services, an outcome they all dreaded.  The aftermath of that "ditch and run" caused some real soul searching by our group, imagining what would happen if a group of North Koreans visited the US, pushed a car off the road and fled.
We saw the Arirang Games, a spectacle with 100,000 synchronized acrobats, gymnasts and dancers performing themes showcasing North Korea's history, present and future (with lots of ideology mixed in!).  The Olympics Opening Ceremony or Super Bowl Half-time shows pale by comparison, and we were additionally fortunate to have "VIP" tickets that gave us the seats Kim Jung Un and his retinue would have used had they attended.
We visited and I hope to return and lecture at Pyongyang University of Science and Technology, the only foreign university allowed in the country. The University was established by a group of South Korean and American Evangelical Christians who have invested $50 M in the project.  Foreign teachers teach all courses in English.  Proselytizing religion is completely banned, but the management school includes teachings on free markets and even about portfolio theory and derivatives.  A religious group from enemy nations teaching about capitalism in the capital of the communist Hermit Kingdom – welcome to the enigma of North Korea!
The country's socialist economy runs on competing commercial enterprises based on work units and leagues that retain profits, pay bonuses (and taxes) and function from a management perspective somewhat like corporations.  The fall of the Soviet Union and the embargo has led to fuel shortages, power plants failing, factories closing, agricultural disasters (without fertilizer from the closed factories) and economic stagnation.  While mass starvation is, for now, thankfully a thing of the past, it remains a lurking threat.  North Korea is trying free market experiments, but has a very long way to go.  We visited the Rason Special Economic Zone, opened in 1991 to foster economic development and joint ventures. We had dinner with their leadership and experienced a bizarre multimedia presentation that would scare off any sophisticated investor.  Pyongyang has massive empty roads and boulevards as there are very few cars (none privately owned).  On rural roads, you sometimes see wood burning propulsion based Soviet era trucks belching smoke.
I was impacted in deeply subconscious ways.  Despite all of the positive experiences, I had many nights of nightmares relating to Nazis – North Korea's oppressive totalitarian regimes, controls, prison camps, informers and the impact on its people made a deep impression.  I also felt tremendous gratitude for the liberties and privileges I have in the US.  When leaving our North Korean guides at the airport departure gate I began weeping at the injustice of the situation – I would be able to continue to pursue my hopes and dreams, while they could not.   This trip was a life-changing experience for all of us.  I am grateful for my fellow travelers – an amazing group of passionate, adventurous, smart, funny and fascinating individuals.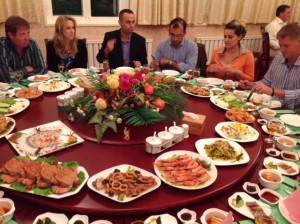 I plan to return to better understand and to engage, believing there is real opportunity to make a difference, both within North Korea and by increasing international awareness about its complexities and nuances. 
I'd love your thoughts, comments and reactions, and hope to post selected images to my website (www.dicksimonphotography.com) very soon.
With gratitude,
Dick Simon  
+1-617-417-0327
"Travel is fatal to prejudice, bigotry and narrow-mindedness" – Mark Twain
I got a weird adrenaline rush from hiding images to make sure they weren't deleted at the border when we exited.  I backed up onto memory cards which I then encrypted and used multiple external hard drives with hidden directories.  I invested lots of effort and late night hours "protecting" my photographic "take".   One night two maids from housekeeping (everyone always comes in pairs, one watching the other) delivered hot water to my room at the Koryo Hotel as I was backing up images, and I was sure they would figure it all out, and that I would be visited by security services.